Helping keep the community safe
ResponsiBLUE is a tool to help support campus health and safety by providing you with a quick daily symptom check for COVID-19. ResponsiBLUE also helps you track your compliance with the university's vaccination policy and other COVID requirements.
Each day, all members of our campus community who enter campus buildings and facilities are encouraged to use ResponsiBLUE to check themselves for COVID-19 symptoms by answering a brief set of questions.  Please note: ResponsiBLUE may be required to access certain locations on campus.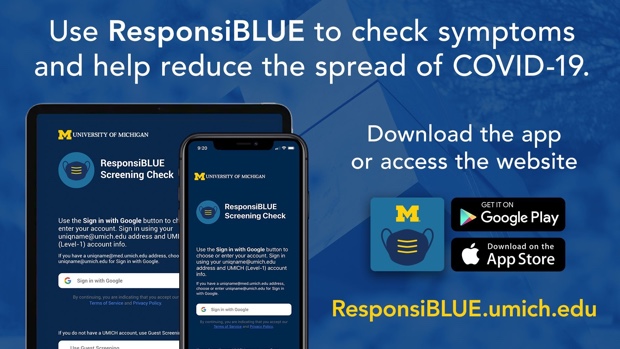 ResponsiBLUE Guest
Before entering any U-M building, all visitors, contractors and vendors are encouraged to complete a preliminary health screening via the guest version of ResponsiBLUE.
What's in the App
Daily Screening Check (For Students & Employees)
Brief set of COVID- 19 screening questions that will result in a "PASSED" or "EXPIRED" status displayed on their screen at the end of the symptom check process.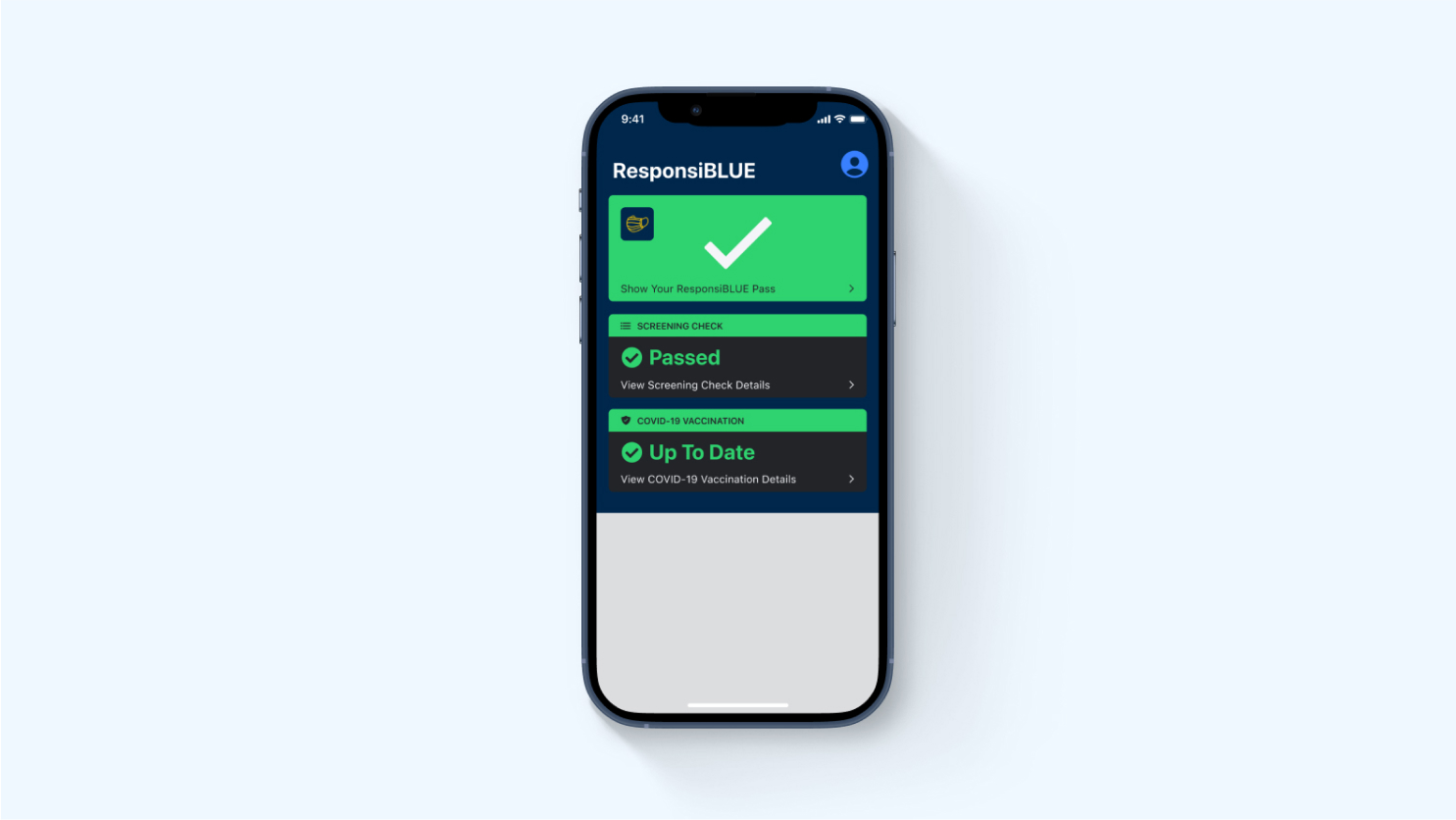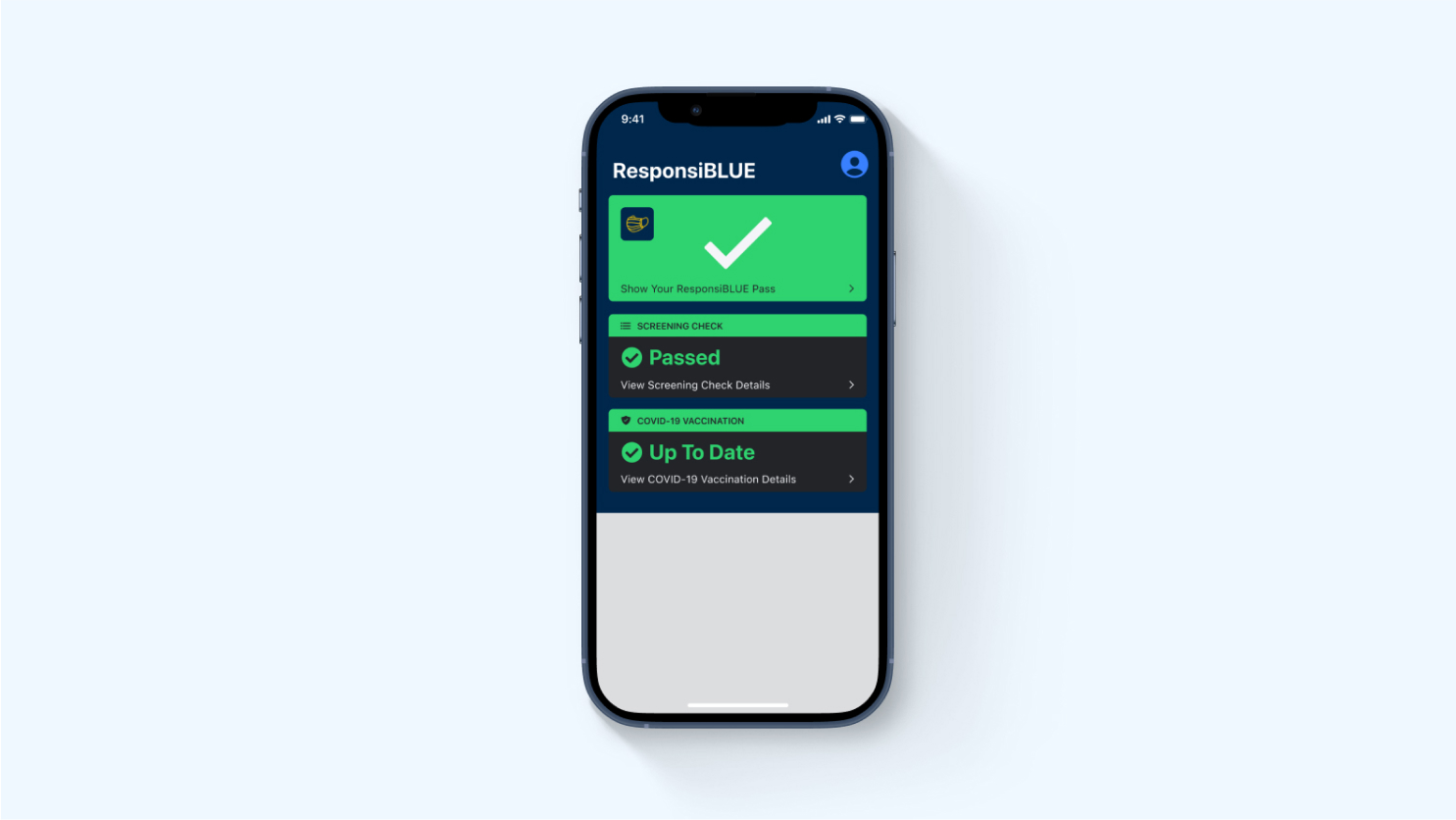 (Click on the image to enlarge it)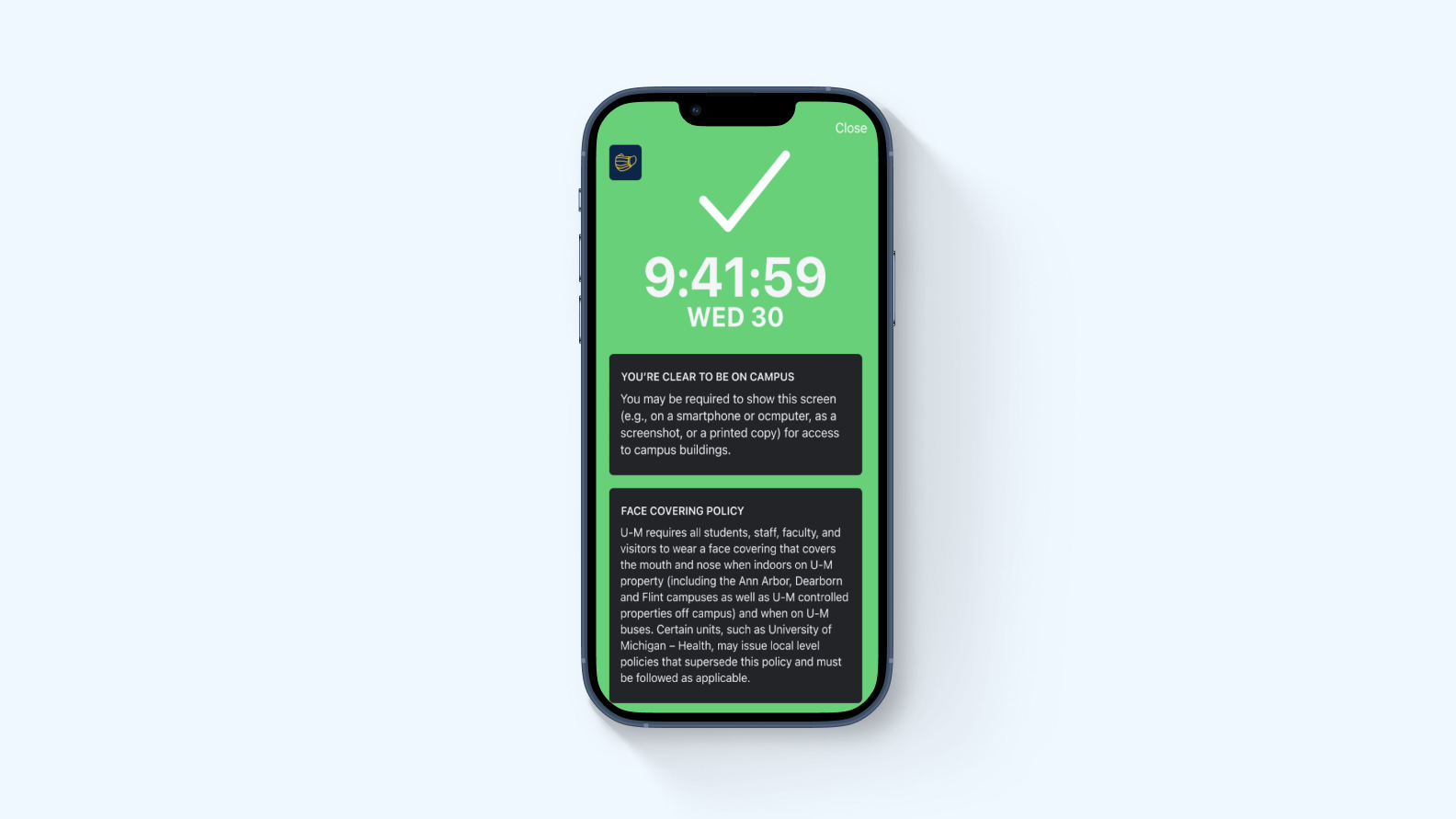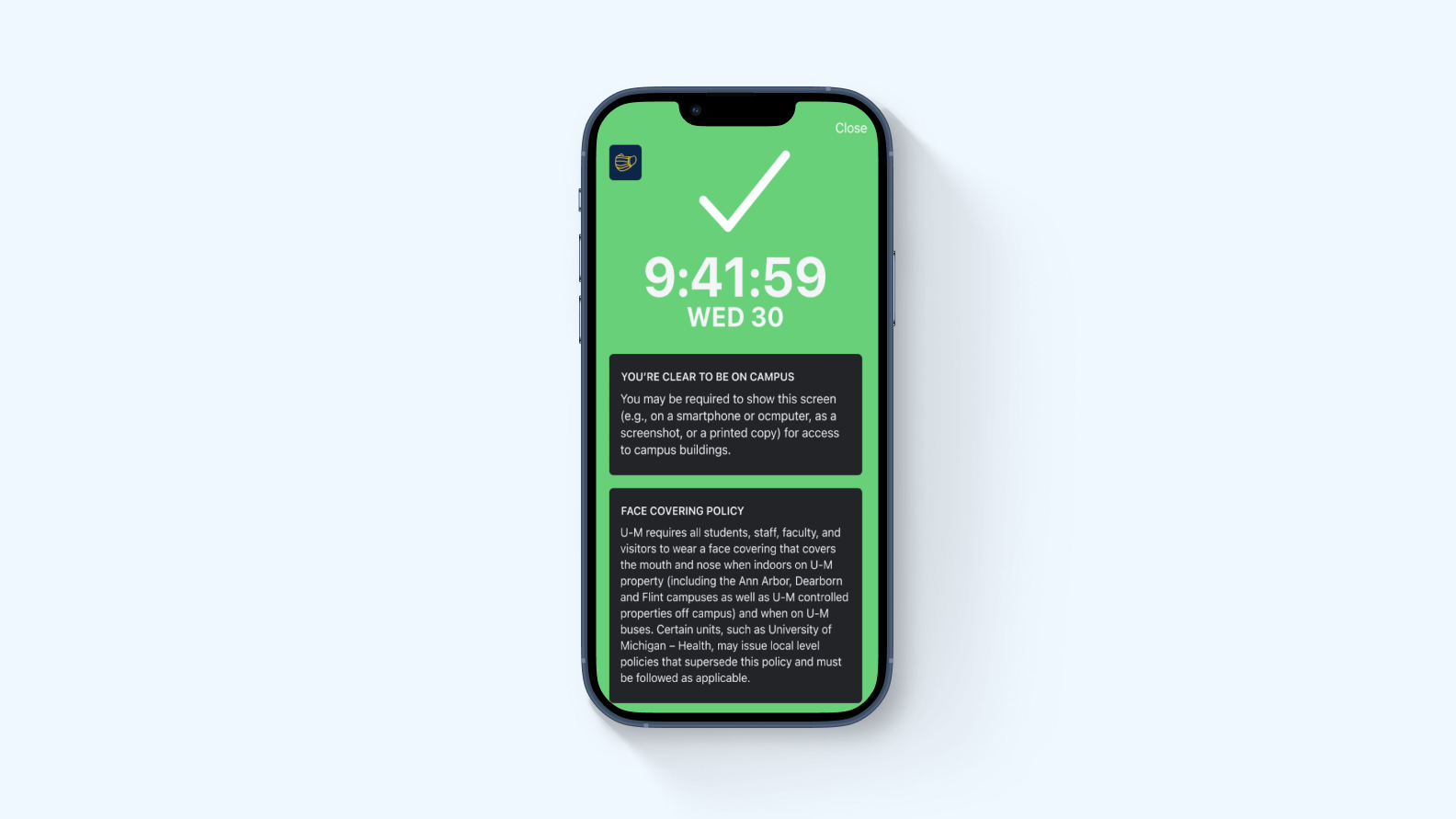 (Click on the image to enlarge it)
COVID-19 Test Verification (For Students & Employees)
Notes the date of the last COVID-19 test through U-M testing programs. All students and employees who are required to be tested weekly are responsible for ensuring they have the required green "Completed" COVID-19 test verification to be on campus as noted in this policy. Please note: It takes about 2 hours for Community Sampling and Tracking Program test information to show up in the App.
Students who are up to date on their vaccinations are no longer required to complete weekly COVID testing, and their COVID-19 testing box will be removed from ResponsiBLUE.
Individuals who are not up to date on their COVID-19 vaccinations, including those who are in the process of becoming vaccinated or who have an approved exemption or postponement, are expected to complete weekly COVID-19 testing at an on-campus testing location until they are up to date.
Individuals who receive an exemption to the vaccination requirement for medical or religious reasons will have their vaccination card removed; their testing box will remain.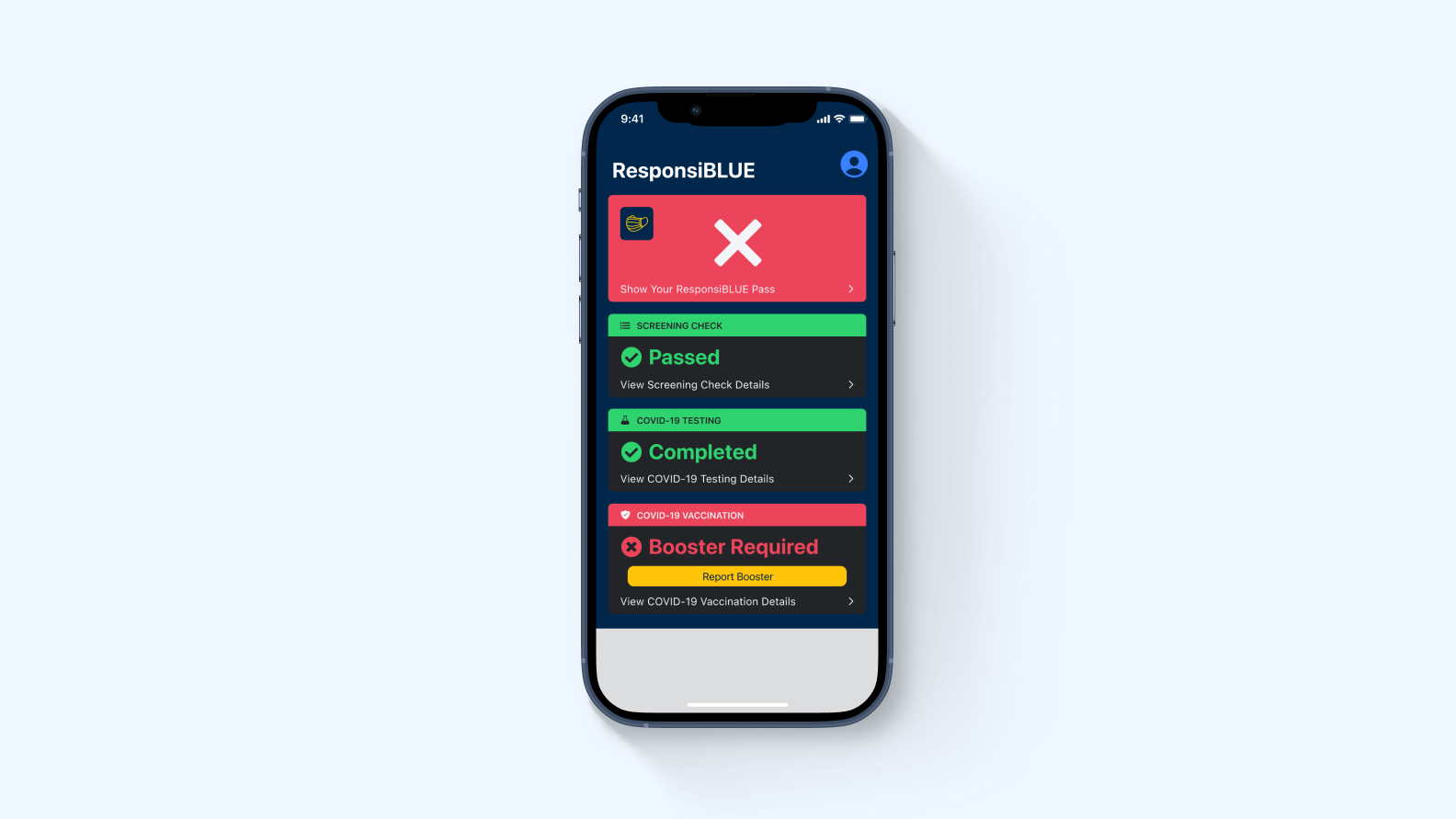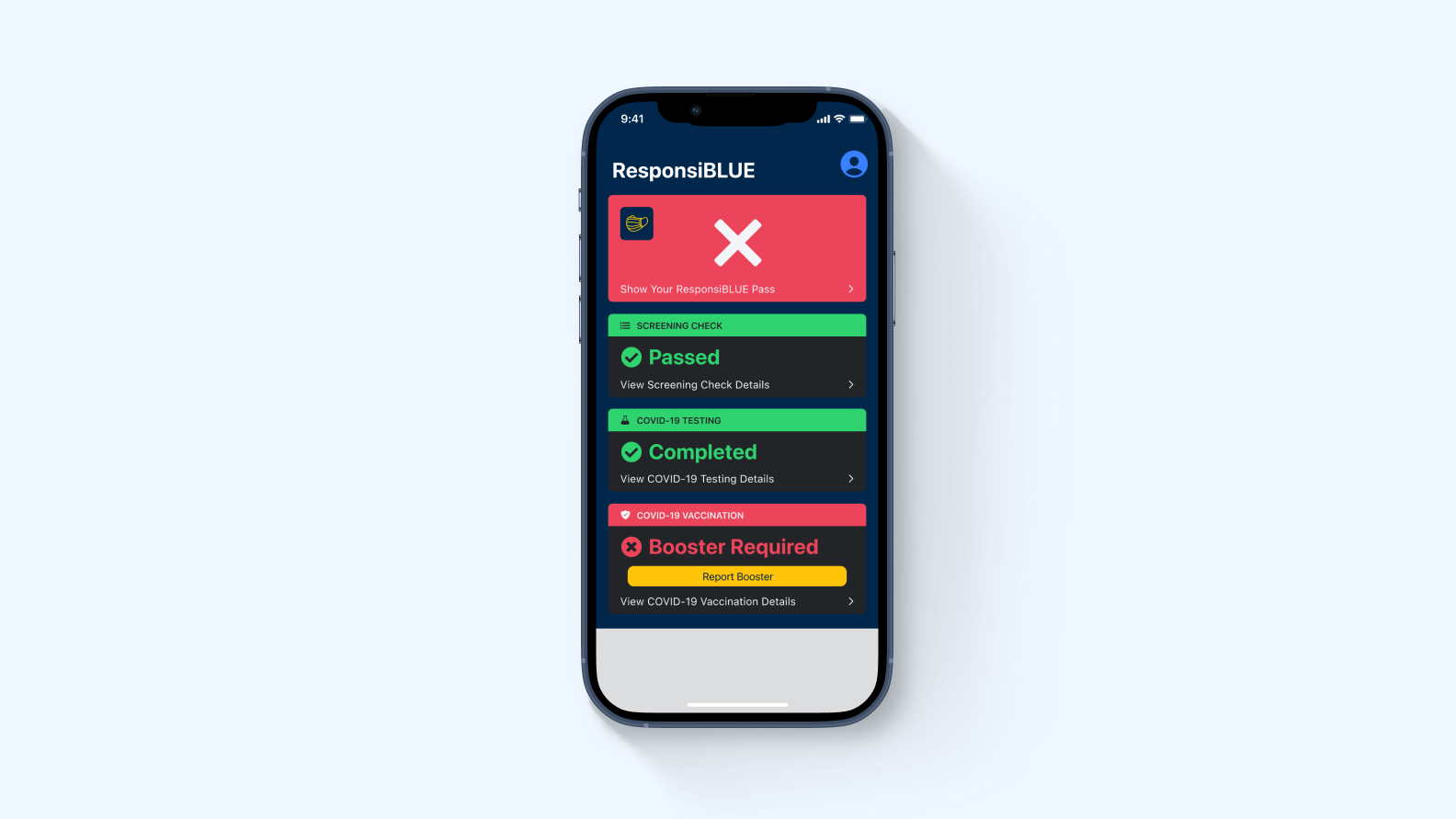 (Click on the image to enlarge it)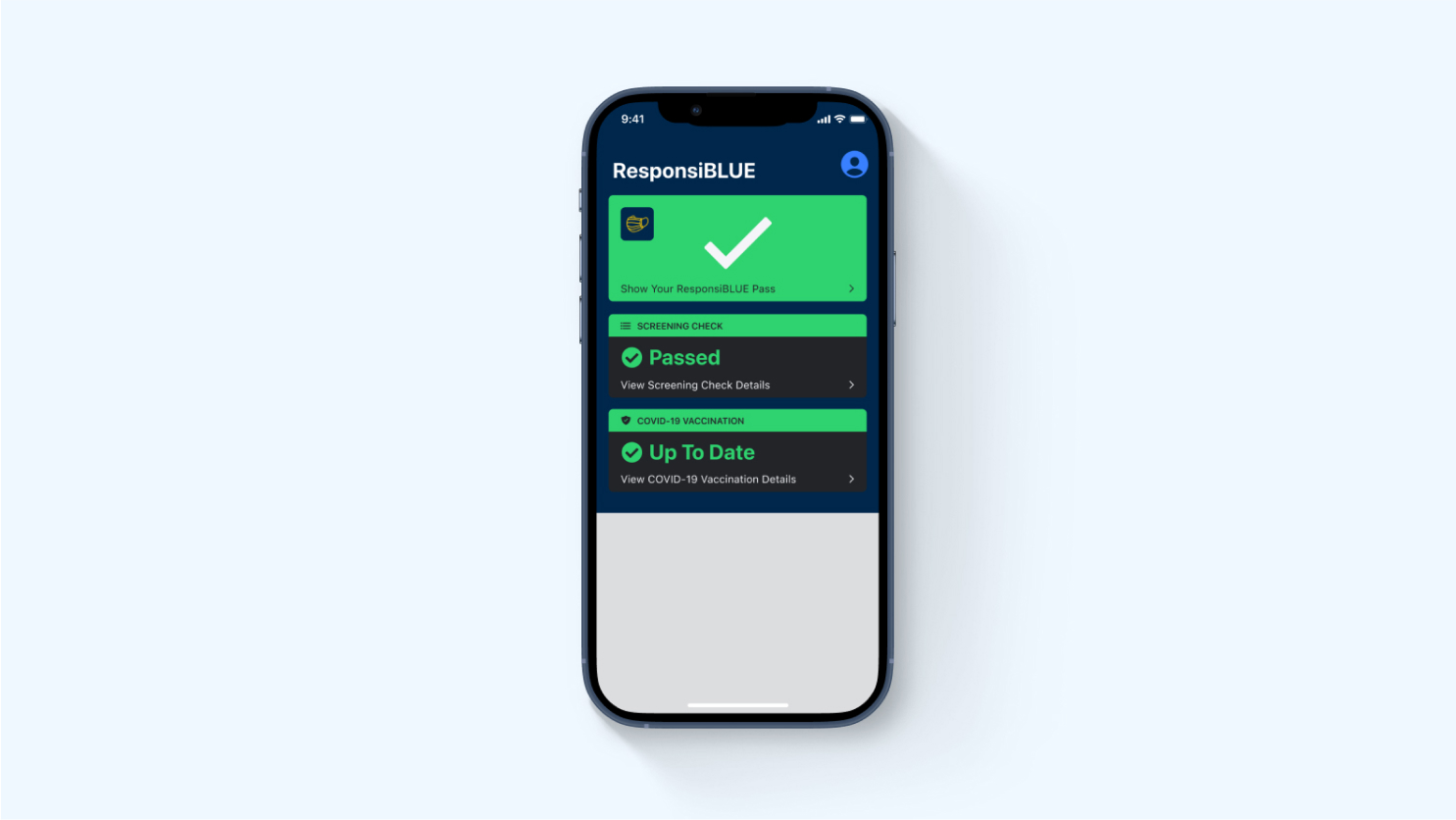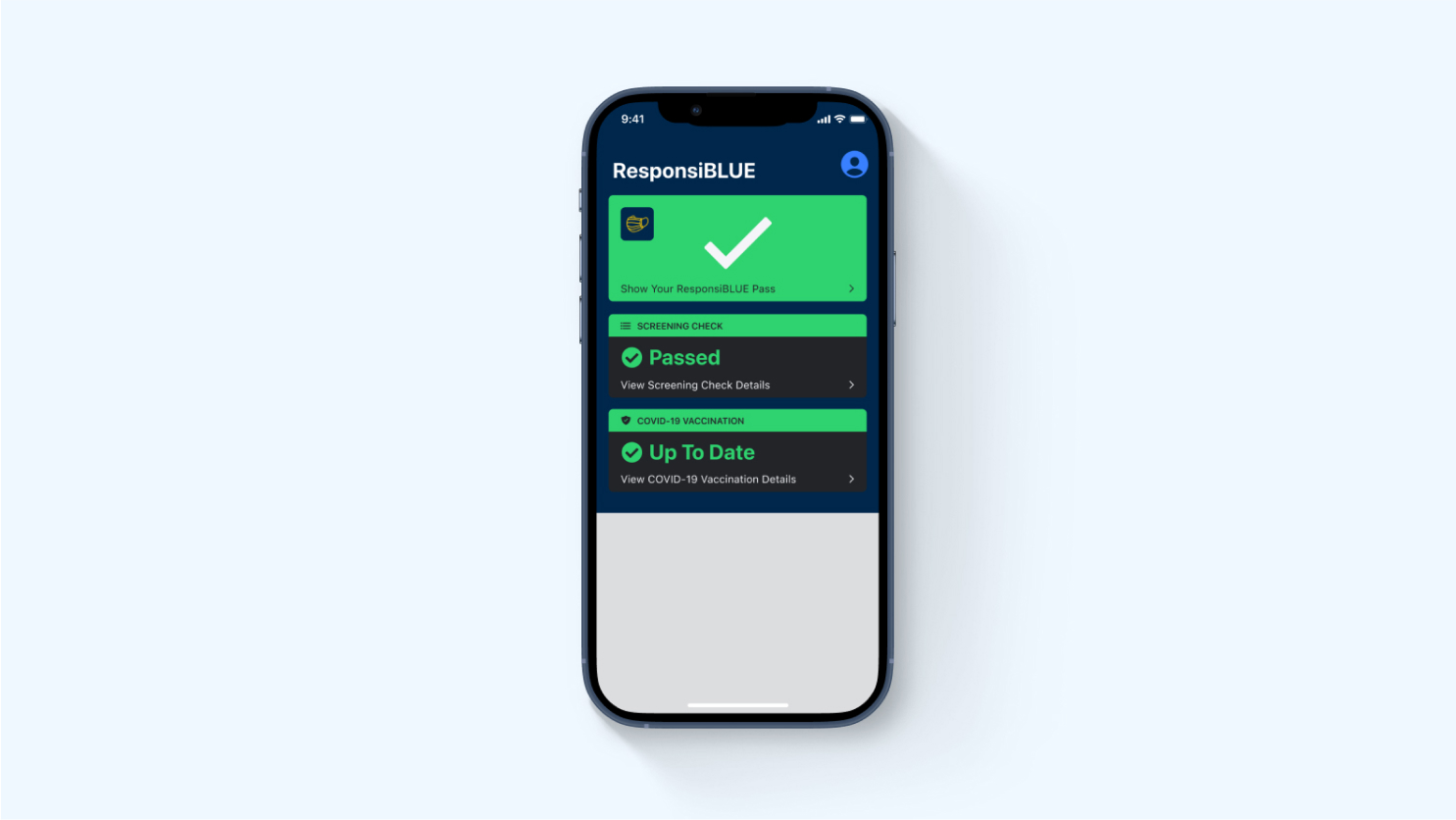 (Click on the image to enlarge it)
Quarantine & Isolation Indicator
The Quarantine & Isolation indicator box will appear for students who have been placed into, or asked to, quarantine or isolate by U-M's Environment, Health and Safety department or the U-M Contact Tracing Corps.
The indicator will show that the individual is currently either in quarantine or isolation but will not specify which.
By clicking onto the Q/I indicator, which will read 'Required,' ResponsiBLUE also will display the departure date of when the individual may discontinue their quarantine or isolation.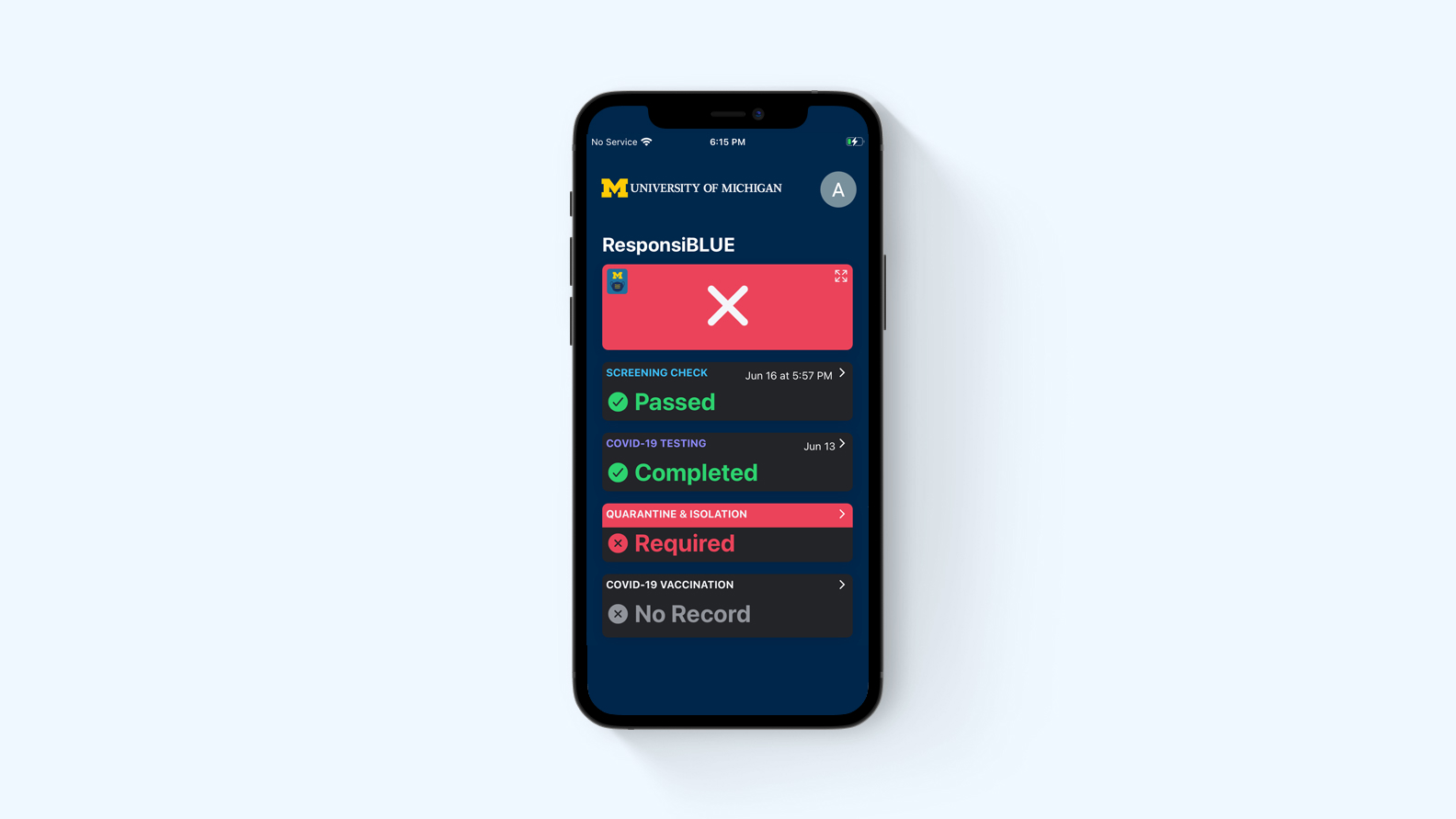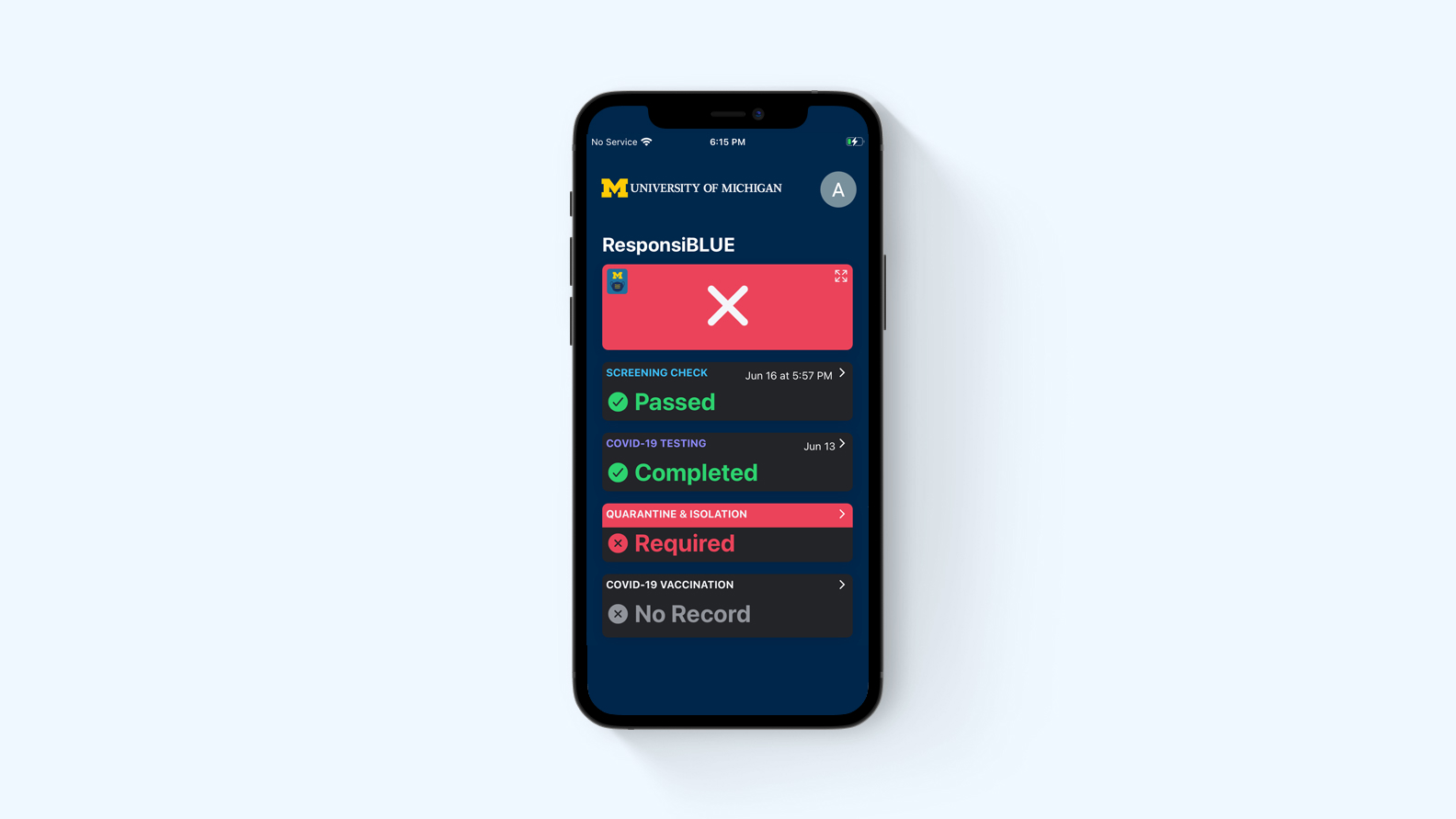 (Click on the image to enlarge it)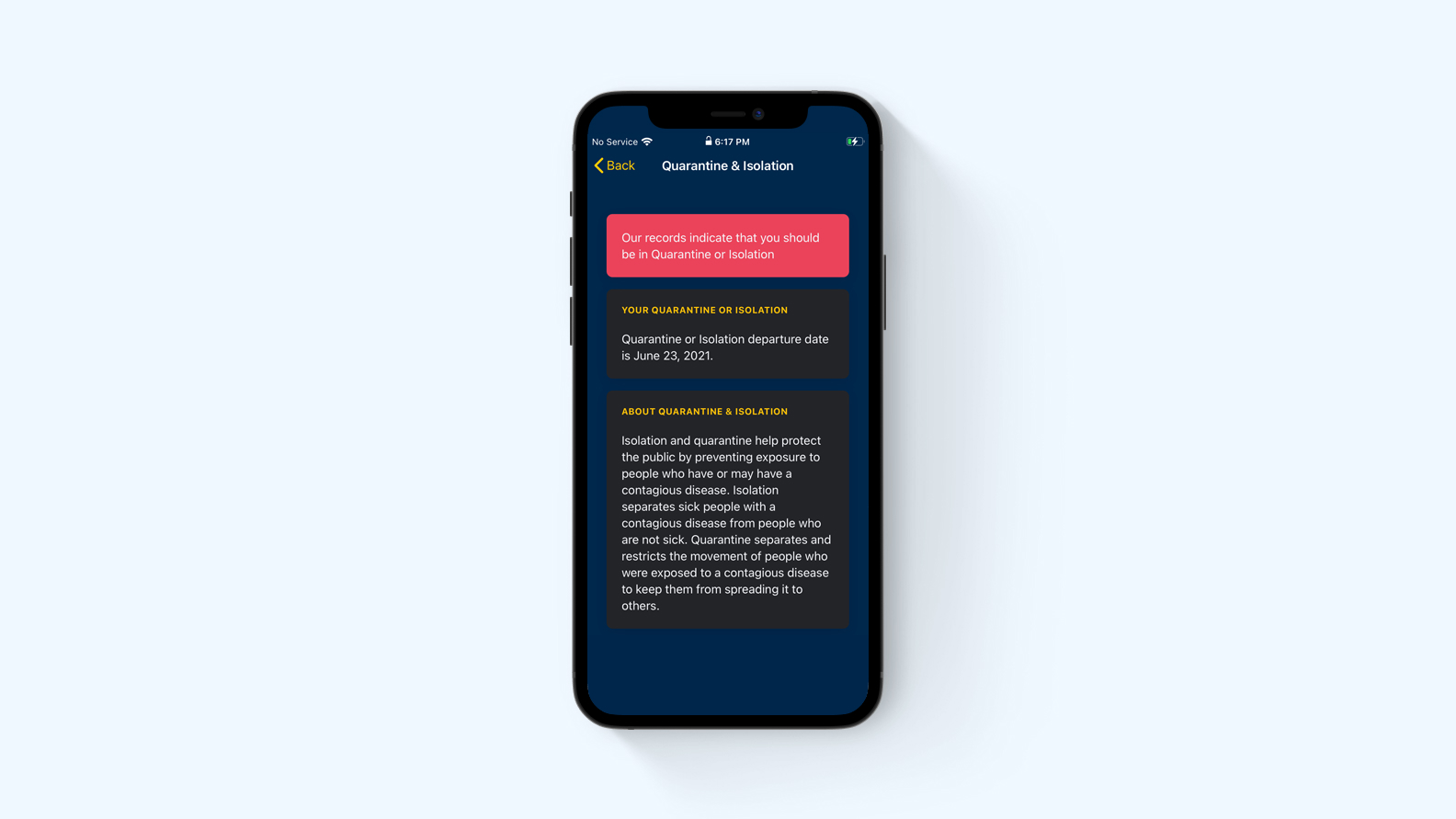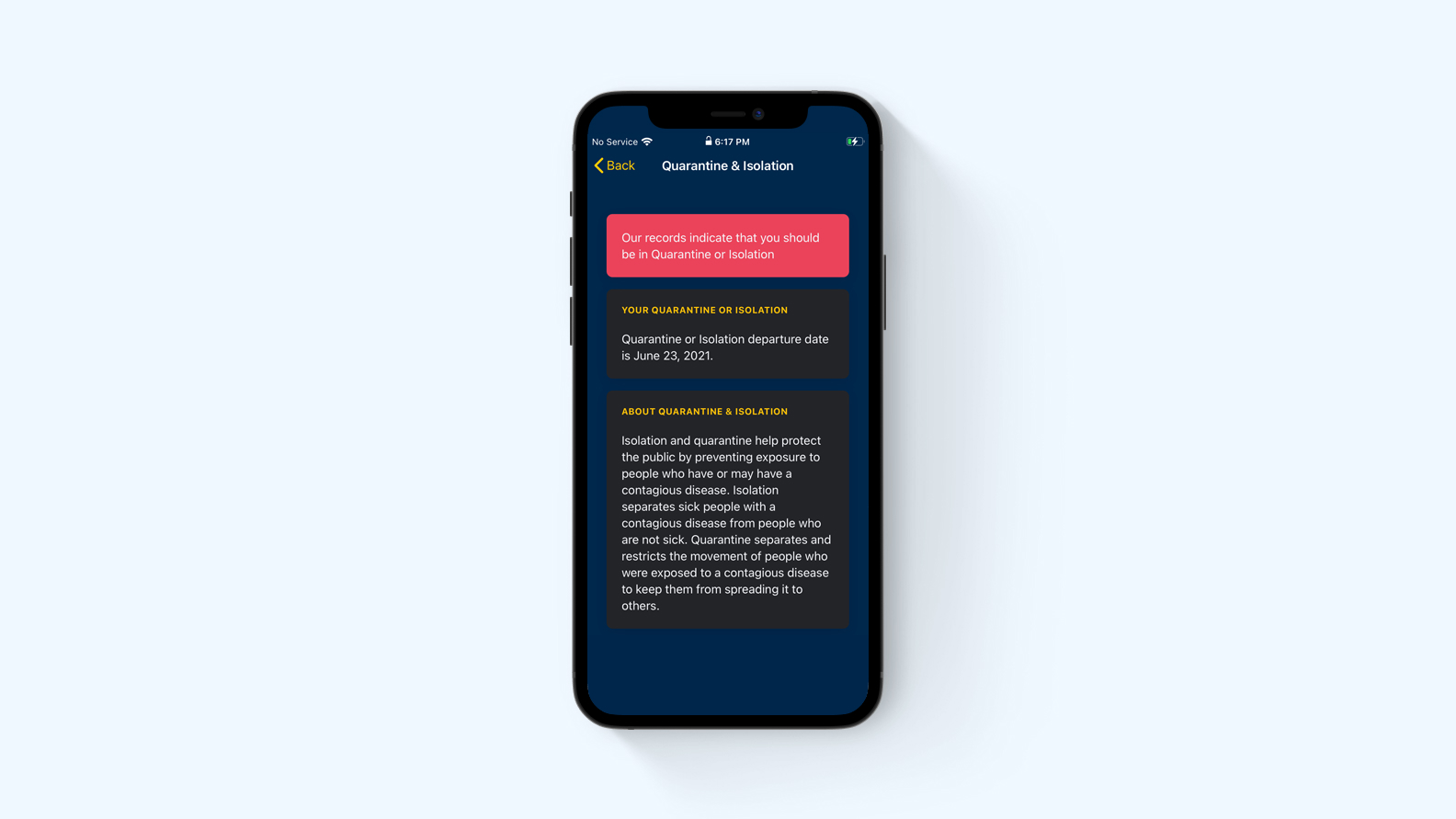 (Click on the image to enlarge it)
ResponsiBLUE & Mandatory Testing FAQs